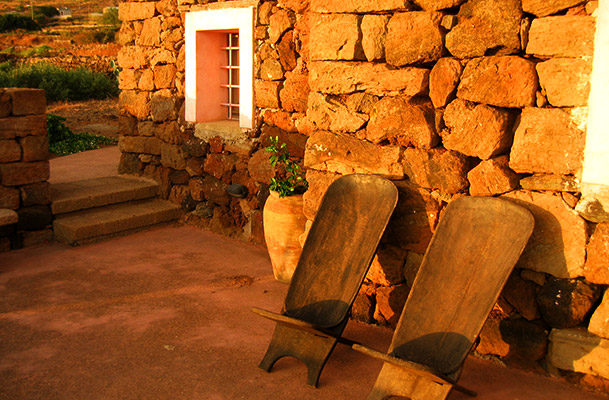 Welcome to our Bed and Breakfast "Le Mareddre"
Where you not just live, but feel at home at this magical and familiar place.
The antique "Dammuso" built in the 18th century is situated in the island's countryside (Rekhale). A hundred years old olive trees, caper bushes and vine invite to enjoy unforgetable sunsets over the Tunesian coast line "Capo Bon".
The Dammuso comes with an independant entrance and parking lot. Silence and privacy are granted as it's situated laterally to the main building in which the landlords live.
After a short path along several palm trees guests arrive on a private terrace with 3 'Ducchene' (benches made of stone with comfortable pillows, which are typical for Pantelleria), canvas chairs and a table on which breakfast is served. Breakfast includes self-made biological jams and marmelades. If desired, breakfast can also be enjoyed under olive trees and an old pepper tree.
On the terrace the guest has a beautiful view over the Mediterranean sea. The living room is accessible from the terrace. It is equipped with a comfortable couch, two armchairs, a fitted cupboard, chest of drawers and a silent mini fridge.
Next to the living room is the bedroom in which a king-size bed and a spacious stone-made wardrobe has been fitted. The bathroom is fully equipped with a toilet and shower.